Mexico City Street Food: Sat, Aug 25; 6:30-9:30pm; Chef Michael de la Torre (Berkeley)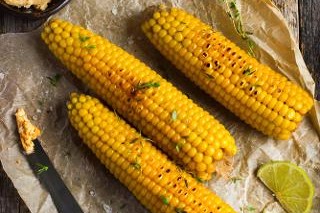 Duration: 3 Hours (approx.)
Product code: PPF81S
Menu:
Quekas (fried corn quesadillas)
Cecina tacos (marinated thinly sliced beef)
Esquites (corn off the cob version of elotes)
Guacamole w/ Grasshoppers (trust me they're delicious)
Tacos Guisados w/ Blue Corn Tortillas (slow braised meat)
In this special Cinco de Mayo class, you get to explore the food offerings inspired by Mexico City's street and market vendors. Here you'll learn how to make and eat the food that real Mexicans eat: handmade tortillas, mole sauces, guacamole with grasshoppers, fried quesadillas and more. Part Aztec, part Spanish, part African, Mexico City street food is a colorful representation of its rich history. Come see how Mexican food can be even better than it already is.

Chef's bio:

Chef Michael was born and raised in the Coachella Valley, CA where he grew up feasting on the elaborately diverse spreads from his mother's Italian family and his father's Mexican family. Tamales and lasagna were served at his parents wedding, potluck style of course. He learned how to cook with fire and smoke with his dad at family barbecues and how to make stuffed manicotti with his mom. Propelled by his rich backgrounds, he went to UC San Diego to study cultural history and graduate with a degree in Ethnic Studies. He substitute taught for 3 years before continuing his education at California Culinary Academy in San Francisco. He then began working alongside chefs from Chile, France, Mexico and Greece, which allowed him to further tap into the culinary nuances of his own indigenous and Mediterranean roots. Over the years Chef Michael has specialized in breads of the world, fermentation, mole sauces, vegetarianism, cooking over fire and cooking with the seasons offerings. When not educating, he works as a private chef and runs a pop-up that focuses on Arab-style tacos and handmade flatbreads. He lives in Oakland with his kombucha mother.

What to wear/bring to class: Please wear close-toed shoes to all classes. If you have shoulder-length hair or longer, please wear it back and away from your face; we have plenty of hair ties in the kitchen for you to use and keep. Feel free to bring a favorite apron or a knife you want to practice with, but know that we will supply all the tools you need at class.


Class format: Each class begins with a lecture from the chefs on the theme and recipes for the class. After this introduction, students break up into smaller groups and begin cooking a recipe. Students will primarily work on this recipe for the hands-on portion of the class, while checking in and learning key points of the other recipes along the way. Students start the class with a prepared snack, and eat throughout the class as different dishes are completed. The main courses are often timed to be eaten together. They are welcome to eat as much as they'd like in class, but unfortunately our zoning permit does not allow students to take food home.


Wine and other Alcoholic Beverages: We whole-heartedly invite class participants (who are 21 and older) to bring any beverages they would like to enjoy during their stay at Kitchen on Fire for personal consumption. We cannot sell or distribute alcohol and we uphold ABC regulations. No minor can drink and we cannot have intoxicated students attending a class. Our friends at Vintage Berkeley wine shop on Vine Street will extend a 10% discount on any bottles you purchase for your class at Kitchen on Fire - just bring in this letter.

Allergies: Please take a look at the class menu. If you think you might be allergic to anything on the menu please get in touch and we can double check the ingredient list (classes@kitchenonfire.com).



Happy cooking,



Kitchen on Fire